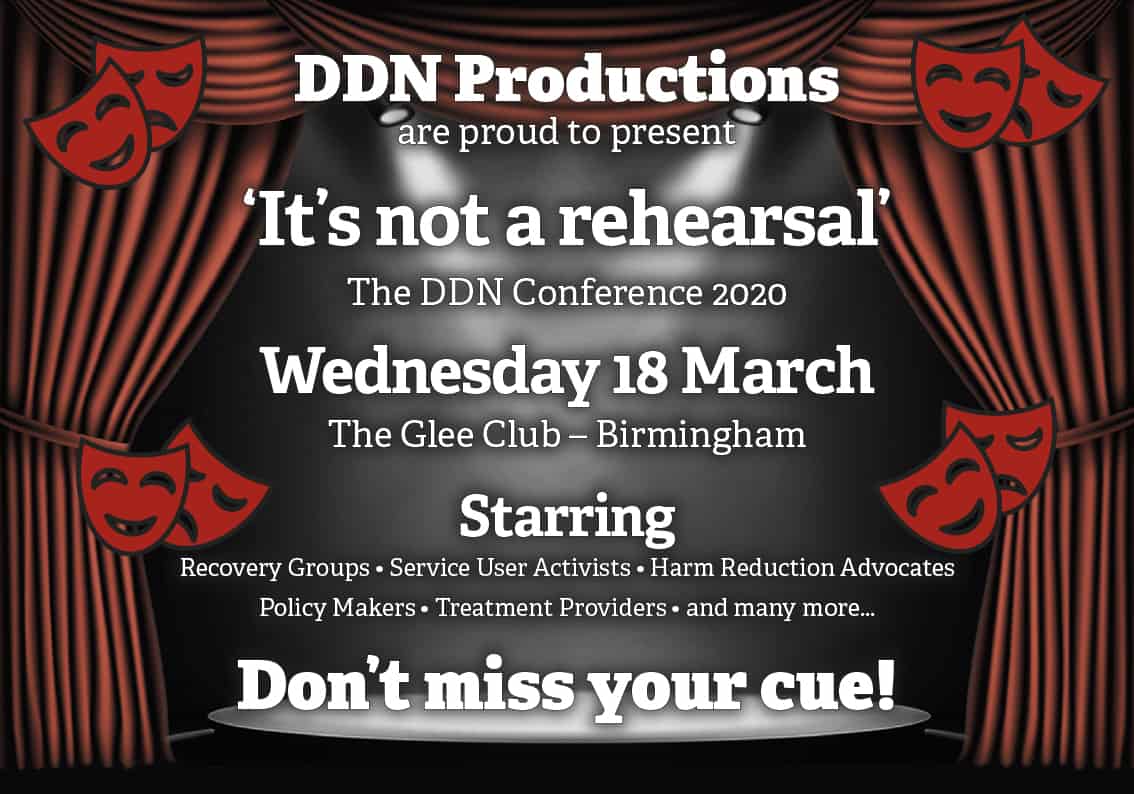 DDN Conference 2020 – 'It's Not a Rehearsal!'
Registration:
9.00am – 10am
10-10.15am
Welcome to the conference and a commitment to tackle stigma with the help of 'More than my past', Forward Trust's national campaign.
---
In the studio
10.30am – 11.10am
Staying Alive
Naloxone action! We hear from a dynamic peer-led network about getting naloxone into the right hands. With George Charlton and colleagues.
The right dose: Let's look at the importance of getting the right medication at the right level. Emma Daggers from Red Rose Recovery interviews Colin Fearns from Delphi Medical.
---
11.30am – 12.10pm
Positive about being positive
The role of peers in hep C testing and treatment
With Philippe Bonnet interviewing peers and and volunteers with lived experience, this session will highlight the Hepatitis C Trust's work, the challenges and successes and the impact our peers have in engaging and empowering people in hepatitis C care and treatment.
From drug treatment to homeless shelters and prisons, our peer workers engage with often marginalised and under-served communities and those least likely to be engaged with treatment services. Reaching these groups by sharing their own experiences of hepatitis C and treatment, peers integrate messages that raise awareness, reduce stigma, inform people of transmission routes and treatments, support harm reduction interventions to active users and provide support and direct to hepatitis C treatment.
---
12.30pm – 1.10pm
Tackling the 'us and them'
How can we use our own stories and first-hand experience to break down stigma?
Using social media to spread the word: Elliot from Blue Bag Life tells us how they have harnessed the power of Instagram for dynamic harm reduction.
---
1.10pm – 2.00pm Lunch and networking
---
2.00pm – 2.40pm
Moving On Up
An audience with…
Our interviewers with lived experience put the vital questions:
An interactive session with the government's Recovery Champion Dr Ed Day about ideas, ambitions and action to create meaningful peer networks and sustainable service user involvement.
Bill Nelles, former CEO of The Alliance and now director of Mid Island Peer Network in Vancouver shares invaluable lessons from his work in Canada, where peer involvement has been vital to tackling the overdose crisis effectively. Much-needed inspiration for all of us involved in the treatment system on tackling our overdose public health emergency here at home.
---
3.00pm – 4.00pm
It's not a rehearsal
Through to the main stage for the grand finale!
---
Creative Cafe
Running throughout the day: live performances, poetry, creative writing and the Recovery Street Film Festival. Featuring performances by The Outside Edge Theatre Group, The Recovery Street Film Festival, and Britain's funniest vicar (as voted by the cast of The Inbetweeners on The One Show) – Ravi Holy.
---
All this, plus the UNMISSABLE exhibition area where so much of the action and takes place! Here's where you can network with service user groups, recovery networks, community groups, treatment providers and find out about all the relevant products, services and ideas.
Refreshments will be served throughout the day and we look forward to welcoming you to this warm and wonderful space. See you on Weds 18 March!