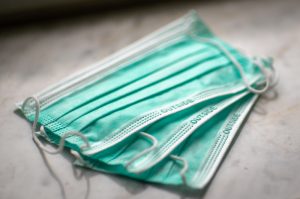 Turning Point offers some advice about managing the symptoms of "Long COVID".
Feeling unwell for a long time can be distressing – and for some people, coronavirus (COVID-19) can cause symptoms that last weeks or months after the infection has gone. This is sometimes called post-COVID-19 syndrome or "Long COVID".
As you find yourself recovering from COVID-19, you may still be coming to terms with the impact the virus has had on both your emotional and physical health. Some symptoms can get better over time, some may take longer than others, but there are things you can also do to help.
What are the Long COVID-19 symptoms?
If you've had COVID-19, you may find that you have continuing symptoms that last for weeks or months. Amongst others, these can include:
Breathlessness
Extreme tiredness (fatigue)
Pain in the chest, joints or muscles
A cough that's been ongoing since you've had COVID-19.
Other common symptoms can include:
Distress
Anxiety
Low mood, depression
Fear of further illness, watching out frequently for bodily symptoms
Nightmares or flashbacks
Poor sleep
Fear of being stigmatised
Fear of contaminating others
Memory, attention and concentration problems.
People who were admitted into intensive care due to COVID-19 may find that recovery takes longer than people who weren't; ongoing research is being conducted to better understand recovery.
However, it is also important to note that not all aspects of recovery from COVID-19 are negative, and not all individuals will experience difficulties. In fact, many individuals who have had severe illness experience positive psychological changes, e.g. a sense of appreciation or gratitude and the desire to help others.
What can I do if I have Long COVID symptoms?
People can experience different symptoms, either at once or at different times. If your symptoms are causing you concern or limiting your activities, you could speak to your GP or a healthcare professional (e.g. many pharmacies have a private consultation room where you can discuss your symptoms). They can discuss the care and support you might need and if appropriate, signpost you to a specialist who can help with the specific symptoms you have – for example, a physiotherapist, a dietitian. A GP can also refer you, or you can refer yourself directly to an NHS psychological therapies service (IAPT) without a referral from a GP.
There are also other things you can do to help yourself. The following ideas might help.
If your energy levels are affected:
Pace your activities. You may not be able to do everything at once or at the same pace you used to. Allow yourself to slow down; or, think about which activities you find most tiring and spread them out across the week, with plenty of time to rest in-between.
Plan ahead. If you find that your energy levels drop at certain times of day, try to avoid engaging in challenging tasks or activities during these times.

Take breaks. Build regular breaks into your daily tasks and between activities. Resting is important in helping you to recharge your energy.
Read the full blog post here.
---
DDN magazine is a free publication self-funded through advertising.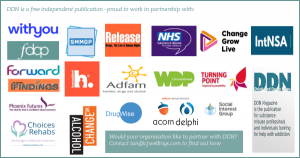 We are proud to work in partnership with many of the leading charities and treatment providers in the sector.
This content was created by Turning Point