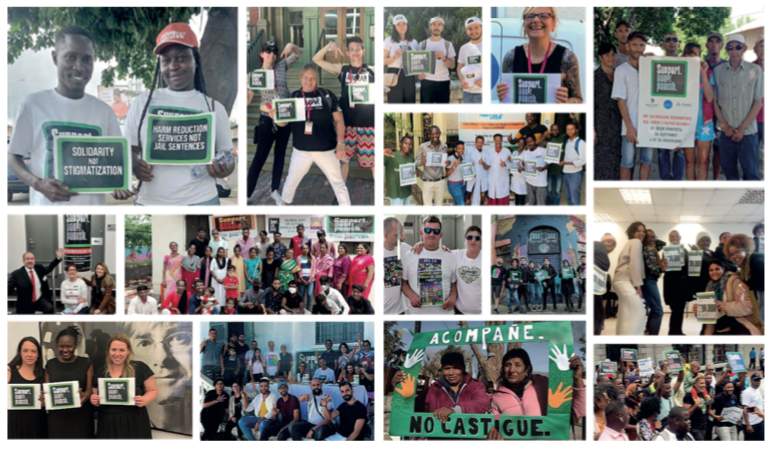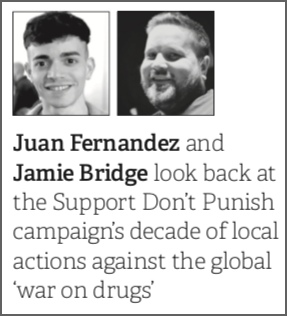 Read it in DDN Magazine
As always, 26 June marked the United Nations' 'International Day Against Drug Abuse and Illicit Trafficking' – a day in which many governments around the world choose to 'celebrate' their efforts to interdict drug markets and arrest those involved (including people who use drugs). Historically, this date has even been used for public executions of drug offenders. But, ten years ago, a bold new campaign was launched to reclaim the narrative of the day, and to promote more humane drug policies: Support Don't Punish.
The initial brief was simple – design a message and some visuals that a handful of country partners from the Dutch government-funded PITCH Project could use to promote harm reduction and decriminalisation. On 26 June 2013, we were blown away when we learned about campaign activities happening in 41 cities and 22 countries around the world, most completely unrelated to the project! Support Don't Punish has continued to grow in size and influence since then.
Around 26 June 2022, on the 10th Global Day of Action, thousands of people have been mobilised through a range of activities in at least 281 cities across 91 countries. In each country, local partners have the freedom to design their own events and approaches – and even the campaign brand and logo has been widely translated, adapted and personalised over the years. Crucially, each local partner also decides on their key advocacy messages – as long as these fit under the broad Support Don't Punish principles (see opposite page).
Materials, leaflets, logos, designs and ideas are provided whenever possible by the International Drug Policy Consortium (IDPC), a global civil society network that is also the campaign's co-creator and coordinator. Thanks to ongoing support from the Elton John AIDS Foundation and the Robert Carr Fund, we were also able to provide more than 100 small grants to partners all around the world. IDPC's role as the campaign's central hub is also strengthened by a number of thematic, community-based or regional 'sister hubs' that support partners to mobilise under our collective banner.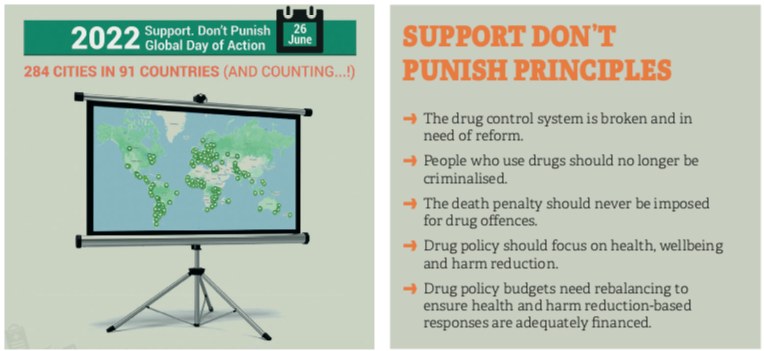 The campaign events continue to demonstrate the incredible ingenuity and creativity of this sector. Over the years, we've seen art displays, music concerts, demonstrations and processions, street performances, political workshops, press conferences, webinars, radio shows, and so much more. In June 2022, the campaign partners organised media events in Nigeria, community events in Canada, harm reduction workshops in Colombia, rallies and speeches in Morocco, naloxone training in Ireland, film screenings in Australia, community outreach in Portugal, street performances in Zimbabwe, and the list goes on. Here in the UK, the powerful Anyone's Child network held a lobby event outside Parliament calling for reform of our own drug laws.
By giving local partners the flexibility, resources and tools to organise based on their own needs and advocacy targets, the campaign has fostered a decentralised movement that brings together thousands of people – whether attending events, engaging with policy makers, or simply taking a photo as part of the campaign's photo project (as participants at last month's DDN conference were invited to do). This power in numbers helps to open doors to advocate for better drug policies: local partners report that the campaign has facilitated access to decision makers that were once inaccessible to them. The campaign has been specifically cited as an important contributor to policy changes in places such as Ghana, Ukraine, Mauritius and Thailand – to name just a few.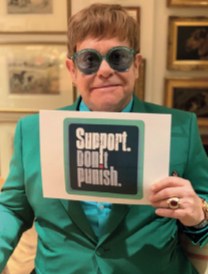 Over this past decade, we've seen rapid spurs of progress in drug policies in places we would not have imagined. More and more countries are moving towards the decriminalisation of drug use, which has now been explicitly endorsed by every UN agency through their 'Common Position' on drugs. Harm reduction measures such as drug consumption rooms and drug checking are growing in acceptance. But change is not a linear road and should never be taken for granted – and the last decade has also seen regression and rising authoritarian policies elsewhere, and the reversal of key wins where we thought they were well established. Here in the UK, at a time when Kate Bush tops the music charts and Top Gun is back in cinemas, Kit Malthouse's rhetoric of 'clear, certain, swift and escalating consequences' that are 'increasingly painful' for 'recreational drug users' (DDN, June, page 4) feels like it's following a trend by taking us back in time to the 1980s.
It therefore remains invaluable that we can all still come together, as a global drug policy reform community, under the umbrella of a unified Support Don't Punish message. The campaign's growth is also measured in the way local partners have cultivated solidarity between different movements who are also affected by the 'war on drugs'. We remain convinced that the question is when, rather than if, global drug policies will change. Until prohibition is consigned to history, campaigns such as Support Don't Punish have an important role to play in seizing every political opportunity as and when it arises.
Get involved at supportdontpunish.org
Juan Fernandez is campaigns and communications officer and Jamie Bridge is chief operating officer at IDPC