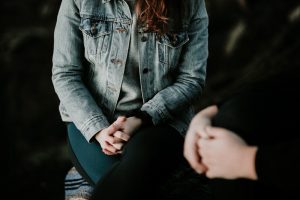 With You's Anna Bate reflects on ten years of delivering NHS talking therapies.
There were a few moments early on in my mental health career that made me think 'this is an amazing job'. I remember working with someone who was experiencing depression. He stands out because he was having an incredibly difficult time with being bullied at work, and I didn't know if I could make a difference. We worked together on challenging his thinking and changing his behaviours and eventually he went on to look for another job and was successful. It was incredibly moving to know that I could have supported that change in someone.
This is the tenth year I've supported the delivery of NHS talking therapies (also known as Improving Access to Psychological Therapies or IAPT) for With You. During university, I did some care work with people with learning disabilities. My first job after uni was in a prison service working with women doing CBT re-offending behaviour programs. I found this fascinating and really eye-opening work. IAPT felt like a logical next step. I wanted to do more to try to move people forward and help them with their symptoms, rather than the caring roles that I had previously had.
My passion for psychology led me on this journey. I had people in my life who've experienced poor mental health and I just wanted to have more understanding so I could help them. I also wanted to break down the barriers to support. I've known people who've really struggled because mental health wasn't really a thing that was talked about or understood. It's often been seen as a failure if someone is experiencing mental health issues, rather than as something that many of us deal with at different points and times in our lives. That's the kind of thing that spurred me on. Also a bit of good luck at falling into it.
While at With You, I have moved from working directly with clients to a managerial role first within a smaller service and then as contracts manager covering a wider area. My front line experience is invaluable in allowing me to support the whole service to work in a way that helps as many people as possible, without compromising on quality of care. My managerial career has been based on wanting to help staff support people, and I am incredibly proud of all the hard work and accomplishments of the amazing teams I work with. I have learned a lot about supporting people in work and the importance of building relationships within the team to achieve a common goal — helping the people we support.
After delivering IAPT services at With You for a decade, it's interesting to reflect on the changes I've seen. When the IAPT programme began in 2008, it was a new approach and a challenge to the way therapists worked with people with mental health issues. In many ways, the core service still looks very similar but the delivery and processes around the core service have changed dramatically. It is such a fast-paced environment and it never stands still — it's always innovating, always trying to do something differently, to make it better for the people we support.
Read the full blog post here.
---
DDN magazine is a free publication self-funded through advertising.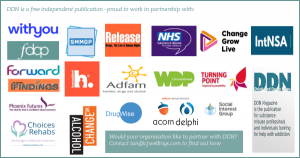 We are proud to work in partnership with many of the leading charities and treatment providers in the sector.
This content was created by With You