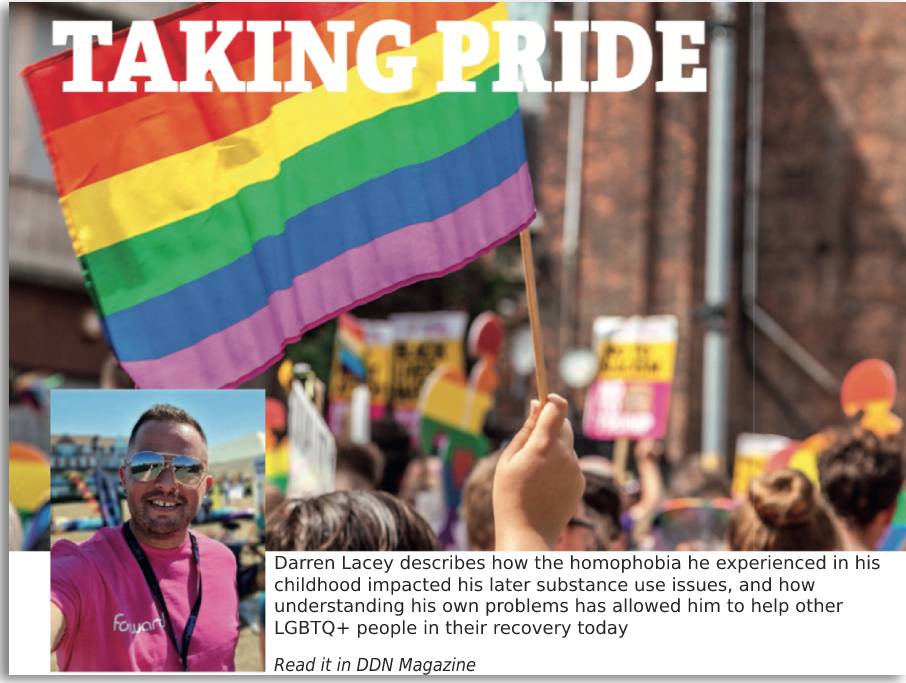 I am a proud gay man. I can say that today but it wasn't always that way. I used to feel so much shame, guilt and angst – the list of negative emotions is endless. I knew from primary school that I was different somehow, but I couldn't put my finger on it. I was born in 1978 and witnessed the AIDS crisis of the 1980s as a child. It scared the hell out of me – who can forget those horrific adverts telling us that being gay was a death sentence? I bore the brunt of Section 28 – which banned schools and councils from 'the promotion of homosexuality' – meaning if I was to go to a teacher and tell them I thought I was gay, they were not allowed to talk to me in any way about it. Doing so could mean them losing their job.
My experience of this institutionalised homophobia is something I would later realise had a hugely negative impact on so many elements in my life – from my mental health to my sense of identity and belonging, and ultimately contributing to my experience of addiction and eventual recovery.
On 18 February this year I celebrated three years sober. In those three years, I have learned so much about myself, about my sexuality and how to be proud of who I am. I was lucky enough to get support for my addiction through The Forward Trust, where I completed a community detox. I discovered more about myself in those 13 weeks than in the past 40 years.
About 18 months into my recovery, I was asked to speak at an online meeting. I don't attend Fellowship meetings (though I know people for whom meetings are key to their recovery) so I wasn't used to speaking to a large group and I found that I was really nervous. I called on something within myself and went to the meeting and bared my soul, spoke my truth and told all. It was an amazing experience. I found it cathartic. I spoke about things I struggled with as a kid and things I was still trying to work on. I spoke about what I later learned to describe as my 'internalised homophobia'.
I spoke about the self-loathing I felt, the guilt, shame, the battle between my masculine and feminine sides – all these things I thought were unique to me. I was blown away at the response to my openness. Within an hour, I had received messages of love and support which was incredible, but also incredibly overwhelming. These people seemed to like me and understand my experience, and I couldn't understand why – I wasn't even sure I liked myself!
One of these messages was from the meeting host who said so much of what I talked about had resonated with him. He told me that he too had felt he was alone in having those thoughts. We chatted on Twitter for a bit and came up with an idea to host an LGBTQ+ recovery meeting. So, we set one up. It is one of my proudest achievements. In the first meeting, we had people from all corners of the globe – the UK, Canada, the USA, New Zealand, and Ireland. It was incredibly inspiring.
We shared common experiences and struggles around how a lack of acceptance in society and ourselves was a leading cause of our addictions. I started researching the relationship between addictions and the LGBTQ+ community and was shocked, yet not surprised, by what I learned. We know that drug and alcohol use among LGBTQ+ groups is much higher than among their heterosexual counterparts, irrespective of gender or age, and can be a significant problem.
Statistics show that LGBTQ+ adults are more than twice as likely to have substance misuse issues as heterosexual people. As a community, LGBTQ+ people are at a higher risk of experiencing mental health problems than the general population and, to top it off, the LGBTQ+ community has some of the highest addiction rates in the UK but the lowest rates of presentation to healthcare or support providers.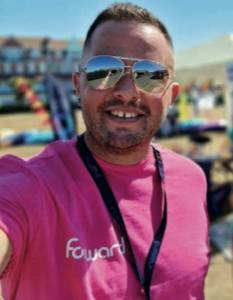 Shockingly one in seven LGBTQ+ people do not access healthcare due to fear of judgement, lack of understanding and the stigma that still surrounds our community. During a very low point in my life, I was in the hospital and the nurse found out I was gay – she told me to 'go to the chapel and pray'. This is the kind of scenario that stops LGBTQ+ people from accessing help and I wanted to do something about it.
I wanted to do something to help people like me.
In February 2020, I started working for The Forward Trust. Soon after, I decided to start a regular LGBTQ+ group and also suggested that Forward attend Canterbury Pride as an organisation for the first time. Canterbury Pride is the largest in the South East, outside London and Brighton, and we managed to get the newly formed LGBTQ+ recovery group up and running in time for Pride Month that June.
We came together to create a wonderful crew of staff and volunteers and we walked the parade together, singing, dancing, whistling loud and proud. We also had the chance to run a stall to raise awareness of the work that Forward is doing. We met so many lovely and inquisitive people – of all ages, sexualities, genders and pronouns.
In developing this group, I was determined not to make it a 'structured' meeting. I wanted it to be informal and relaxed to give everyone the chance to speak about whatever was on their mind. We have a real mix of attendees. The group is a safe space – warm and welcoming to new members and regular attendees alike, as we all know what it feels like to attend something for the first time. This group is open to anyone working with or for Forward and we have people who are at various stages of their journey: some who are still trying to manage their substance misuse and others who have been sober for longer.
There are recurring themes that crop up – guilt, shame and a lack of belonging, as well as the challenges of trying to explain things to family and friends, talking about pronouns with parents or trying to date whilst in recovery. We talk about the challenges of being part of the LGBTQ+ community, chemsex, the preconceptions that exist around our identities and the 'gay scene' having such a reputation for drink and drugs.
Staying safe and sober in those environments is an especially prevalent issue in our community. The positive impact of these discussions is huge – the openness of our group has allowed members of our community to speak openly and freely about day-to-day concerns and challenges as well as to celebrate our successes. Knowing you are not alone is empowering. Knowing that other people understand you is reassuring and coming together as a community celebrates the positive changes we have made in our own lives.
One of the most inspiring parts of this support network is how we work as a team when someone is struggling. The group rallies around and offers support, advice or a listening ear and it is always a two-way street. Above all, the group is about acceptance and support – not only accepting others as they are but learning to accept ourselves.
I can now say it without hesitation, I am a proud gay man. I can join my community in celebrating our successes and coping with life's challenges every week. As a group, we highlight our LGBTQ+ support network and show people that Forward Trust is truly and fully inclusive, that addiction doesn't discriminate and that recovery is possible.
If you would like more LGBTQ+ information or support please contact Darren.Lacey@forwardtrust.org.uk