Rosie Hunt from SIG Penrose Synergy service bravely decided in December to shave her head to raise money to buy Christmas dinners for Synergy participants and their families.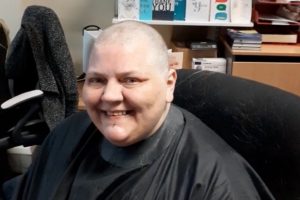 In 2021, many Synergy participants were left without Christmas dinner when local charities that provide food for the festive period were inundated with huge numbers of Luton residents asking for help with meals.
Thanks to the money that Rosie raised, 23 people and their families were given the ingredients to make a full traditional Christmas dinner. Rosie approached a local butcher who kindly gave a discount on turkeys, and Penrose Roots to Recovery supplied the vegetables. There were also Christmas puddings for everyone.
Donations also came from colleagues at SIG Penrose, Synergy, and Rosie's friends and family. Over £400 was raised.
Well done, Rosie! We are really proud of this incredibly generous, heartfelt (and brave in this weather!) gesture. Your selfless act truly epitomises the true meaning of Christmas – love, and goodwill towards others.
Read the full blog post here.
---
DDN magazine is a free publication self-funded through advertising.
We are proud to work in partnership with many of the leading charities and treatment providers in the sector.
This content was created by The Social Interest Group