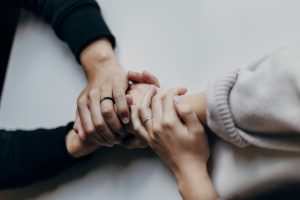 The effects of drug use can be felt by the whole family. Leesal Malhan explains how With You's services support people to manage family life.
Sophie* is a young mother in Wigan. After becoming pregnant, she was forced to leave her family home to live with an ex-partner. She was told that she shouldn't expect 'special treatment' because she was pregnant. She has been on a waiting list for affordable housing for over two years.
Eva* has a young son. She is entitled to 15 hours of free childcare per week under a government scheme. However, she is struggling to find a job that will employ her for those hours.
Grace* is a stay at home single mum. Being at home all day with a toddler has had a negative effect on her mental health, leaving her feeling socially isolated. Wigan has one of the highest teenage pregnancy rates in the Greater Manchester area, with the North West having the second highest rate in the country. For Grace, this has made her cautious of seeking help for fear of being stigmatised by her community.
Peoples' experiences with support services can leave a lasting impact. These are just three stories that illustrate the social and financial barriers parents and caregivers can face when accessing support, and the ways in which they might come to mistrust support services.
Last year, more than a quarter of adults in England who applied for social care support had their applications rejected, with people in the North West most likely to be turned down for support of any kind. At the same time, the cost of living crisis is hitting the most vulnerable people — those living in the most deprived communities — hardest, which is likely to increase people's reliance on social support.
We know that people with multiple complex needs including those that use drugs are more likely to experience difficulties around housing, employment, and family life. When people come to us, it is vital for us to be sensitive to the negative experiences they may have around seeking help.
At With You, we understand that to offer the most successful interventions for any given service user we need to take a holistic view. In the context of families this means reassessing our understanding of what family units can look like and providing judgement-free support for every member of the family affected by drug use.
Supporting parents and caregivers who use drugs
Parents and caregivers who use drugs can often find themselves in a cycle of guilt, shame, and isolation.
Research suggests that stigma around drug use is exacerbated in the context of parenting and caregiving. Parents and caregivers with drug use issues may isolate themselves or avoid disclosing their drug use in medical settings for fear of being labelled as 'irresponsible' or 'uncaring'.
Similarly, the fear of losing custody of children or being deemed unfit to have others in their care can be a painful barrier to seeking treatment. This is especially the case for single-mothers, who face additional social stigma for 'failing' in their maternal role.
We know from parents that have accessed our services that council-provided parenting courses may not always be able to meet their specific needs. Offering bespoke parental groups specifically for our client base is therefore welcome, where we can support people to feel confident in their parenting in a non-judgemental environment. We use modules from the popular resource 'The Parenting Puzzle Book' to support adults who have been referred through our treatment system.
During the pandemic, our services were able to pivot to provide virtual advice as well as programmes that focus on empowering the individual. In the current context of the cost of living crisis we are ensuring that people with families can continue to access support through simple but important interventions, such as providing childcare vouchers so that people can attend their appointments, or arranging visits to their homes or local communities to remove the barrier of transport-related costs.
However, it is important to remember there is no one programme we can point to as a catch-all solution. Every family affected by drug use has its own set of complexities, just as every family unit will be made up of different relationships and dynamics. When we think about our treatment offer it is more accurate to think of a toolkit made up of the collective knowledge, training, and experience we have to provide the right combination of support for any given service user. As a With You recovery worker said, 'the biggest asset we've got is our connection with people and being able to demonstrate care with a non-judgemental approach. Just because you're a person who's lived with drug use issues doesn't necessarily make you a 'bad' parent'.
Read the full blog post here.
---
DDN magazine is a free publication self-funded through advertising.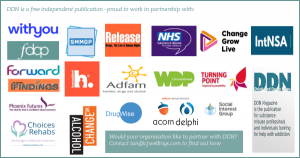 We are proud to work in partnership with many of the leading charities and treatment providers in the sector.
This content was created by With You