SIG's Solace Centre service held a silent disco for their 2022 Christmas celebration, which was a resounding success.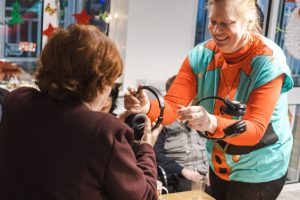 Catherine Bingham, Interim Manager of Solace, said, "As a change to the norm, this year the Solace Centre's members wanted a 'knees up', a get together to celebrate Christmas, so we arranged a 'silent disco' – yes, a disco, but with a twist. Instead of music being pumped out of loudspeakers, songs are transmitted directly to sets of headphones which each party-goer wears (55 in total). It was great to see so many beaming smiles and groovy dance moves!"
Some members of the centre who attended the event said:
"Solace was rocking around the Christmas Tree having fun – thank you, this makes such a difference to my mental health." – JK
"Fantastic. What a night. Good music, company and festive cheer." SG
"Fun, lively, really boosted my mental health before Christmas." – MW
"Good music, good feelings. Helps you forget problems for a while." – SJ
"Very enjoyable. Christmas can be stressful for some, lonely for others. So, getting together was a perfect antidote." – KK
"These events brighten our spirits and keep us optimistic. Solace is a family, and like all families, it's great when we get together and celebrate." – PB
Norman Alcide, SIG's Equality, Diversity & Inclusion Programme Manager, who attended the event, added, "It's just occurred to me that travelling to the Solace Centre and sharing some excellent activity time with participants and staff is becoming a bit of a habit that I'm unwilling to break. It started with the pool competition before morphing into an arts and crafts session, and most recently, I experienced my first silent disco. Having been recently exposed to regular episodes of Strictly, I sensed there was enough data in my memory bank to get through this unique activity.
"At first, it felt a little bizarre and took a bit of adjusting to, particularly when removing my headphones set off and hearing an entire room singing the song I was listening to in unison. However, it wasn't long before I found my space on the dance floor and was twirling away with everyone else and had one of the best times ever.
"A massive thank you to the participants and staff at Solace for meeting me halfway and building the amazing sense of rapport we share; I feel so much part of this community and urge everyone to accept any opportunity that presents itself to visit this superb centre."
Read the full blog post here.
---
DDN magazine is a free publication self-funded through advertising.
We are proud to work in partnership with many of the leading charities and treatment providers in the sector.
This content was created by The Social Interest Group