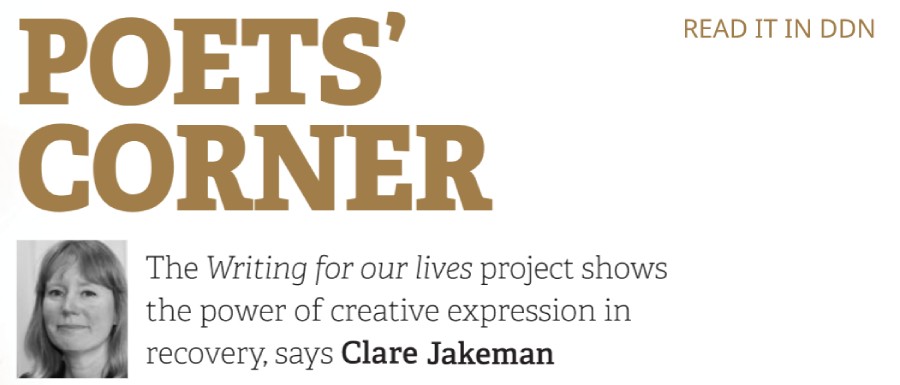 Jody Lee struggled with drink and drugs for 20-plus years. During that time, and through his subsequent recovery, the one thing that has remained constant in Jody Lee's life was his love of poetry, which he now uses to help others.

Lee's raw, honest and inspiring poems are part of a series of poems and illustrations from people with experience of mental health or drug and alcohol problems that have been collected in a book titled, Writing for our lives. The book, which aims to a shine a spotlight on the role that expressive arts can play in the road to recovery, was launched at the Victoria Library in London in March.
Lee, who is known as The Skinny Poet, appeared on the World at One on BBC Radio 4 to promote the book and explained how writing kept him 'connected' to part of himself during his 20-year struggle with cocaine and heroin addiction.
'Poetry helps me to be able to express myself with some of the things that I struggled with, some of the dark parts of my addiction, my anger, my fear, my self-destructive tendencies,' he says. 'To be able to express these in a creative and healthy way helped me deal with the sadness and grief I felt over the time I've lost through my addiction. By sharing this work with other people who've been through that process as well, they really seem to connect to it, which is what pushed me to share it with others.'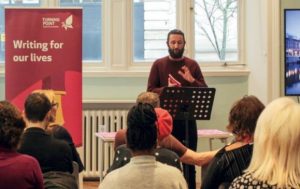 Lee grew up in a house were drugs were 'readily available', as his father was a drug dealer. He started drinking and smoking cannabis at 13. It then progressed to speed, cocaine and eventually heroin, and any other drugs he could get his hands on. 'It was just completely normal to me,' says Lee. 'Drinking and drug taking was just a way of life. I watched my dad and all of his friends do it. Most people I knew did it.'
His love of literature also started at a young age, however. 'I'd always enjoyed writing. As a kid I used to love reading things like Hans Christian Andersen fairy tales. I used to love storyteller books, listening to the cassette tapes as you turn the page and I started writing short stories because of that,' he says. 'As I got older, being a '90s kid, I got into hip hop and I used to write rap. I realised I just loved the structure in the wordplay of things. I loved hip hop, but it wasn't my experience. I started to find my own voice and write about things that related to me and my experience.'
After ten years of suffering with addiction, Lee admits he got to a point where his life was spiralling out of control. 'As heroin took hold, I started to lose jobs, my friends, family. I turned to crime to feed my addiction. I wasn't very good at it at all – I ended up getting caught, and escaped prison by the skin of my teeth.'
What turned out to be his saving grace was poetry. The magistrate happened to be a poetry lover and encouraged him to keep writing and put him on a 12-month Drug Treatment and Testing Order (DTTO). He managed to stay abstinent for 13 months but then relapsed. 'It was a pattern of going back into recovery and relapsing for a long time until I was 38 years old – around five years ago – that I became fully clean,' says Lee.
Lee credits his mother, who also suffered because of his father's 'oppression', as the main reason why he managed to 'hold some part of my life together' during the years he was battling with addiction. 'I would say I was high-functioning addict. I did a BTEC National Diploma in engineering and managed to get a job at an engineering firm where I stayed for 17 years going in and out of addiction,' he says.
It was through Turning Point's Suffolk Recovery Network that he managed to recover. 'Turning Point are the first organisation that have stuck in Suffolk for a long time, which has made it more stable,' says Lee. 'I've had the same key worker and worked with the same people for a long time. When I started using drugs I wrote a lot of dark poems that were very nihilistic and destructive. And then as I got clean, my poems changed and I wrote about recovery and about life beyond addiction. I just built a huge catalogue of poetry which I decided to share with some of the key workers.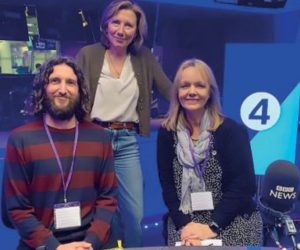 'Turning Point offered brilliant avenues for me to be able to share my poetry,' he continues. 'They run a really good event in Suffolk called Recovery's Got Talent. Since performing at that, I would say my poetry took off and I managed to do recovery festivals, poetry slams, open mic sessions and give lived experience talks to people in services.'
Writing for our lives is part of the Turning Point School of Art programme which supports its people to learn new skills, make something they're proud of and put aside the negative things that affect them.
The programme started in 2019 and came at a crucial time for many clients who struggled through the pandemic and numerous lockdowns. Professor Sarah Perks supported the delivery of the programme and introduced clients and staff to art history, techniques and opportunities to try out the skills they were learning and developing.
There are also opportunities to learn from sculptors, illustrators, mask makers, and photographers. Some of the images included in Writing for our lives, were created following these art sessions.
'In terms of people's mental health and how creative arts can support people with their recovery, I think it's really important, and certainly the book reflects this, whether it's writing poetry like Jody, or whether it's doing creative arts through drawings, illustrations, paintings, photography,' says Gaye Founders, Turning Point's regional head of operations – mental health. 'If people are struggling to express how they're feeling, using art and creativity, it allows them to express themselves in a different way. It's supporting people to explore different ways of communicating of what is going on internally and to externalize that and that often helps.'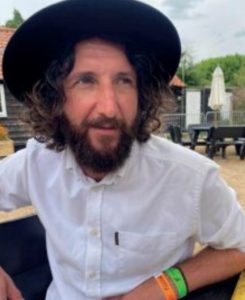 Lee hopes he can continue to help people to express what they are going through and take steps to recovery. The 43-year-old will finish doing a BA Honours degree in counselling and psychotherapy next year. 'I want to support people recover from not just alcohol and drugs, but also domestic violence issues, mental health issues, and other health problems,' says Lee.
'A lot of my poetry is about compassion, human nature and having compassion for what people go through in all walks of life. Not to pass judgment and understand that it's okay to mess up, that we are fallible, that we make mistakes, that we're only human and to look at each other from a humanistic lens.'
Writing for our lives is available to buy online at Waterstones and The Telegraph online bookshop.
Clare Jakeman is senior operations manager at Turning Point Suffolk Recovery Network.