Homelessness and unstable housing are associated with a 'substantial' increase in acquisition risk for both HIV and hepatitis C among people who inject drugs, according to research by the University of Bristol.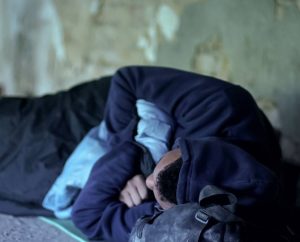 Recent homelessness or unstable living circumstances meant a 55 per cent increase in HIV risk and 65 per cent for hep C risk, researchers found.
Worldwide, an estimated 22 per cent of people who inject drugs reported experiencing homelessness or unstable housing within the last year, with the figure for England standing at 42 per cent. Of the estimated 15.6m people globally who inject drugs, more than one in six are thought to be infected with HIV and more than half with hep C. The study, which was carried out by the University of Bristol's NIHR Health Projection Research Unit in Behavioural Sciences and published in Lancet Public Health, is the first systematic review and meta-analysis of the link between BBV risk and homelessness, and combines data from 45 previous studies.
Homelessness and unstable housing mean people are less likely to access both harm reduction measures such as needle exchange or substitute medication and HIV or hep C treatment – they are also more likely to have recently been in prison and to engage in higher-risk injecting behaviour. According to the Homeless Link charity, 30 per cent of the homeless population report last-month use of heroin.
Housing interventions for people who inject drugs should 'address their competing health and social concerns', the study says, while access to HIV and hep C prevention and treatment needs to be improved. The response to the COVID-19 pandemic – which saw many countries quickly provide safe and secure housing for homeless people – demonstrates that 'dramatic, if only temporary, changes are possible if there is the political will', it adds.
'Our study highlights the overlapping bio-social problems that worsen health inequalities among homeless people who inject drugs,' said lead author Chiedozie Arum. 'Expanding access to prevention and treatment services and improving housing provision for this population should be prioritised.'

'This research adds to the growing evidence on the damaging effect of housing instability on health and social outcomes,' added professor of infectious disease modelling at the University of Bristol, Peter Vickerman. 'A comprehensive policy approach that not only provides housing but also addresses many of the interlinked health and social concerns of this population is necessary in order to reduce HIV and HCV risk.'

Homelessness, unstable housing and risk of HIV and hepatitis C virus acquisition among people who inject drugs at www.thelancet.com/journals/lanpub/home