The healing power of the natural world is helping people in recovery in Devon to reach their full potential, say Kerrie Clifford and Allysa Hornbuckle.

'When you look outside on a sunny day you can see that the world is a beautiful place. Before, my eyes weren't open to that.' Flourish in Nature is a project led by EDP Drug & Alcohol Services and funded by Sport England that focuses on people in recovery, encouraging them to volunteer their time while training to become activity leaders and/or peer mentors.
The programme helps people see and realise their full potential, engage with new hobbies, and discover what really matters to them, all while embracing the beauty of nature. Most of the much-needed face-to-face support that people in recovery were used to came to a standstill as a result of lockdown, but Flourish in Nature continued because they were able to maintain their nature walks as a group while keeping social distancing. The outdoor activities such as walking, cycling, tai chi, wild swimming, forest bathing and boxing have been hugely impactful for everyone involved because they've been able to continue with their support system and communicate in person with others who are experiencing similar challenges.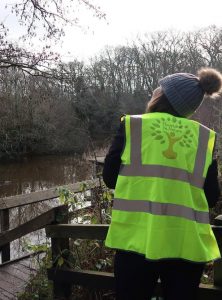 Flourish in Nature also offers Zoom meetings twice a week, where anyone can join to talk about what's on their mind or issues they're facing, and when there is a larger group of people they often engage in teamwork-based games. This helps them to stay connected with one another and encourages step-by-step development of their community. The programme has benefited a great many people, one of whom is Kelly.
Kelly was approached around nine months ago to see if she fancied trying out some new experiences and maybe gaining a few new skills. She was at a point in her life where there was a void and she was at a loss as to how to fill it. 'But when Flourish in Nature came along it was a huge game-changer,' she says. She thought to herself that there really wasn't any other service quite like Flourish in Nature and that she ought to become a part of it. So for the past nine months she has been working hard to pursue her goals, and while Kelly has been in EDP's Together service for the past 18 months, in just two months' time she will be a fully qualified yoga instructor.
She began her activity training as a walk leader at the same time as training to become a peer mentor, and then pushed on to become an activity lead while juggling a yoga instructor qualification. This training has given her the necessary skills to be able to help other people. She already has a client base for when she accomplishes her yoga instructor training and is beyond excited to be able to help people with both mental health and overall wellbeing.
Kelly's unique blend of skills in peer mentoring as well as in outdoor leadership has given her the confidence to speak up in situations where people may be displaying or talking about their risky behaviour and guide them towards safer habits and better decisions. Kelly knows that she has a way to go with her recovery but she continues to strive to be the best version of herself and thrive through sheer perseverance. 'I have not wanted to use drugs now because I spent the past 25 years suffering from depression because what I was doing wasn't making me happy,' she says. 'But I didn't have a choice. Where now I am saving my money and I am planning things for the future.'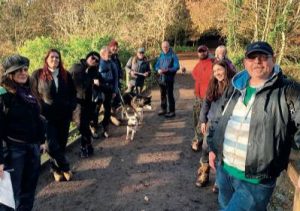 She has changed the course of her life and because of Flourish in Nature, her mental health has turned a corner. 'I'm happy now. I see the world differently now and I don't have a chance to get bored. When you look outside on a sunny day you can see that the world is a beautiful place. Before, my eyes weren't open to that.' With the walks that she leads she tries to instil the importance of becoming one with nature, embracing the soil under her feet and breathing in the clean air. 'It creates a sense of solitude while being surrounded by others that perceive no judgement.'
Having the ability to have a support system that is present and non-judgmental helps to motivate everyone involved in Flourish in Nature. Recovery can mean many people being faced with a choice of giving up their past life, and this can include giving up friends. Very quickly an individual's usual support system is gone but with this programme there is the opportunity to engage with a new support system, where everyone has the same goal – to become the best version of themselves within their recovery journey.
Kelly's family and friends have all been affected by her journey and are extremely proud of her for what she's accomplished and her determination for a better future. She will not settle for anything less. 'I wish that perhaps something like this was around 20 years ago, then maybe life could have been different,' she says.
'In the past, my background would have always gone against me, and I thought instead of swimming against the current, I should go and run with it, use my past as a plus point and use it to help others.' There has always been a stigma around addiction and the idea that a person's history will always be held against them but with Flourish in Nature, Kelly is using her history positively to speak her truth and help others through their recovery journey. 'I used to hide my background and wasn't able to be honest with others because I always thought I would go back to it… Flourish in Nature has made me be more honest with myself, now I know I won't go back so I can be proud of where I came from,' she states.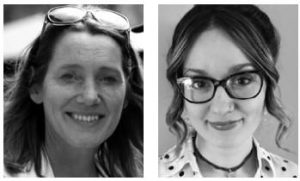 'Something bad would have happened and that would have been an excuse to go back to it, but now I am not risking all that. I have accomplished and built so much because I have so much going for me.' Flourish in Nature offers endless growth and continuous training allowing individuals to grow and connect with themselves through nature. It will also continue to tackle the stigma around addiction – as Kelly says, 'People witness the members of this programme walking around and it is normalising the stigma and showing that we can do some good.' This powerful message is a small but wonderful way of breaking down barriers. A last comment from Kelly, 'I am so thankful and grateful for all the tools that they have given me. I kind of owe them to really do my best so that others can benefit too.'