The global drug control regime represents 'a shocking health and human rights disaster' according to a report from the International Drug Policy Consortium (IDPC) to mark the 60th anniversary of the Single Convention on Narcotic Drugs.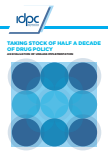 Around 2.5m people are in prison for drugs offences, at least 475,000 of which relate to personal use only, while the annual drug-related death toll now stands at 585,000. Only one in eight people with drug dependence has access to treatment, the document states, while billions have limited or zero access to pain relief 'due to repressive drug laws'.
While the 1961 Single Convention on Narcotic Drugs represents 'the legal foundation' of international drug control, this month is also the fifth anniversary of the 2016 UN General Assembly Special Session (UNGASS) on drugs, which saw countries commit to a 'public health, rights-based' approach to drug policy (DDN, May 2016, page 4). Comparing these commitments with evidence on the ground reveals 'a widening gap between rhetoric and reality,' says IDPC.
Enforcement of drug laws continues to disproportionately affect women and ethnic minority groups, fuelling poverty and inequality, the report says. 'Women who use drugs are particularly vulnerable to health harms, but their access to gender-sensitive harm reduction and treatment services has not improved over the past five years. Stigma, criminalisation, fear of loss of child custody and other punitive measures play a major role in deterring women from accessing the services that do exist.' Globally, around 35 per cent of women in prison have been incarcerated for drug offences, it points out.
The report is calling for a full review of drug laws and policies to 'remove all punishments for drug use and possession for personal use' and ensure proportionate sentencing and 'meaningful' alternatives to incarceration, with prison used 'only as a means of last resort'. All health interventions should be voluntary, evidence-based and 'respectful of the rights and dignity of those wishing to access them', it adds.
'The 60th anniversary of the global drug regime gives us little cause for celebration' said IDPC executive director Ann Fordham. 'In the past five years, some progress has been made, as countries moved to adopt welcome initiatives on the decriminalisation of people who use drugs, and the legal regulation of cannabis. However, in most parts of the world, governments remain wedded to draconian policies that have had a catastrophic impact on communities, and have resoundingly failed in their stated purpose of eradicating drug markets, or reducing illegal drug use.'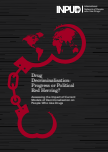 Meanwhile a new report from INPUD states that 'it is time to disrupt the misconception that decriminalisation efforts unquestionably represent progress when they have been developed with little or no consultation with people who use drugs'. Decriminalisation is often discussed as if there is a single model, says Drug decriminalisation: progress or political red herring? In the overwhelming majority of countries people who use drugs 'continue to be criminalised, punished, and stigmatised' despite decriminalisation, it states, and calls for people who use drugs and their organisations to be involved in all stages of reform processes, along with expansions of access to harm reduction and social care.
Taking stock of half a decade of drug policy – an evaluation of UNGASS implementation at idpc.net
Drug decriminalisation: progress or political red herring? at www.inpud.net