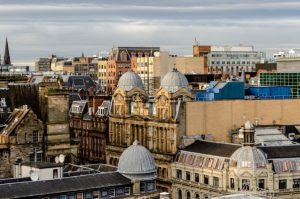 How With You Community Link Workers are working with people in GP practices to improve their long-term health and wellbeing.
It has been an exciting journey for With You since we joined Scotland's Community Link Worker programme back in 2019.
Our Community Link Workers work in GP practices providing non-medical support with personal, social, emotional and financial issues. These include low mood, anxiety and stress, social isolation, money and poverty issues, and bereavement.
This is one the core services available through GP practices in Scotland. They help reduce demand on primary care by diverting people to the right sources of support within the community, including welfare rights organisations and peer support groups.
They also work to address health inequalities created by deprivation, protected characteristics, geography and demographics.
Where we started
With You has supported people with drugs, alcohol and mental health issues for over 50 years, giving us a lot of skill and experience in working with people in deprived communities and supporting people to change their health and wellbeing behaviour.
This experience allowed us to research and develop a brand new model for Community Link Workers. We started using this model when we won our first contract in Glasgow at the end of 2019. We received excellent feedback from clients, GPs and commissioners, with 100% of clients saying they felt:
listened to
treated with compassion, dignity and respect
connected with the right sorts of support
We built on our achievements in Glasgow by taking our model to new areas in Scotland including East Lothian, Renfrewshire and Argyll and Bute.
We now have 44 staff working across 73 GP practices. In 2021 we supported around 2,500 people.
Read the full blog post here.
---
DDN magazine is a free publication self-funded through advertising.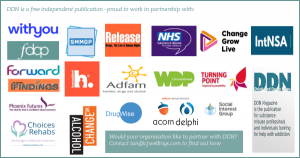 We are proud to work in partnership with many of the leading charities and treatment providers in the sector.
This content was created by With You