Let's make sure recovery is inclusive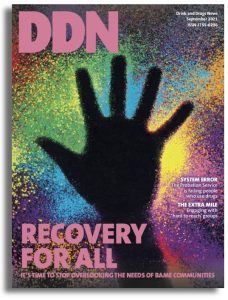 When there's so much competing for our attention, it's easy for some things to feel unattainable. But threading diversity through our services is not an add-on. As Sohan Sahota explains (p6) many BAME people perceive services as clinical and uncaring and have had poor experiences of engagement. Add language barriers and cultural differences to discrimination and it's not hard to see why some people feel reluctant to engage.
In Recovery Month this is surely something we need to examine very closely when we are celebrating the huge benefits of connection and a sense of belonging. Let's make sure recovery is truly inclusive.
The feeling of being an outsider is compounded for people who find themselves homeless, says Wendy Nee (p10), who describes the massive recovery opportunity we can offer simply through shelter, safety and kindness. The value of this vital sense of belonging also came across strongly when we asked, 'What keeps you on track with your recovery?' (p12), which also shows the benefits of peer support.
While Phoenix share stigma-busting recovery projects that are enhancing the community (p20), WDP and Shannon Trust show how peer-led reading support can transform lives: recovery in action.
Read the September issue as an online magazine or download the PDF
Claire Brown, editor
Please send your letters and comment to claire@cjwellings.com