A national naloxone and overdose awareness campaign has been launched using posters of people who have been personally affected by overdose and now carry naloxone themselves.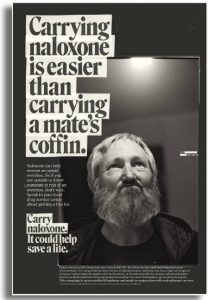 The first set of billboards will be displayed across London and Manchester, with more to follow later in the month in Birmingham, Bristol, Cardiff, Edinburgh and Glasgow.
The campaign highlights the importance of making naloxone available to anyone at risk of opiate overdose – or likely to witness one – as well the need to properly understand overdose risks. Everyone featured in the campaign has been fully trained in overdose prevention. The high-profile campaign is designed to encourage wider public debate and challenge the stigma so readily applied to people who use opiates.
'What this campaign demonstrates beautifully through its anti-stigma approach is the human face of people with real lived experience,' said Release executive director Niamh Eastwood, whose organisation has long advocated for wider naloxone provision. 'It is this humanity that is often ignored by politicians, the media and other agencies who seek to dehumanise and "other" this vulnerable population, and this allows for their lives to be seen as expendable. This has to end – we must recognise that stigma kills.'
One of the posters features harm reduction activist and regular DDN conference volunteer Lee Collingham. 'I was losing friends and going to funerals. They were poorly attended and the word heroin was omitted – there was shame,' he said. 'It's all about educating the public and until we've got a full national programme for naloxone provision it's the simple things that matter – phoning an ambulance and doing chest compressions can save a life. Everyone can relate to that.'
Join in the campaign by posting your photos of the billboards with the hashtag #naloxoneposter