As the annual event drew to a close, Turning Point celebrated being 'stronger together'.

Every year, Recovery Month promotes the societal benefits of prevention, treatment, and recovery for mental and substance use disorders. It offers an opportunity to celebrate people in recovery and the contributions of treatment and service providers. It promotes the message that recovery, in all its forms, is possible.
This year was the 30th year of celebrating the lives of those who are in recovery from addiction, showcasing positive change – health improvements, learning new coping skills, and holistically moving forward to a better life. This might mean becoming free of drugs or alcohol or learning to get better control over their use – here at Turning Point, we believe that any change focused on enhanced wellbeing is part of that journey.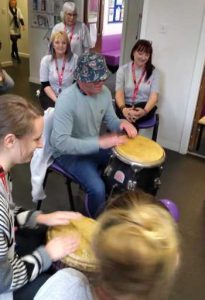 This year's theme, 'We are stronger together', demonstrated that millions of people from all walks of life have found recovery. Showing visible recovery promotes widespread understanding that long-term recovery is a reality and a process that takes time and support. Ultimately, Turning Point empowers clients to find their own path to recovery, which could be through one or a combination of different routes.
On 25 and 27 September, our ROAR (Rochdale and Oldham Active Recovery) service hosted two events in Rochdale and Oldham respectively, featuring 'Club Soda', an alcohol-free, mindfulness-focused drinking event with mocktails, aromatherapy mists, karaoke music and board games – even bongo drums lessons! Both included inspiring recovery stories, shared in rap music style from rap artist/storyteller Ben Riley, and poetry readings and stories from those who have gone through treatment.
If you are currently struggling with alcohol or drug use issues and would like to speak to Turning Point about seeking help or advice, call us on 0300 555 0234.
——–
DDN magazine is a free publication self-funded through advertising.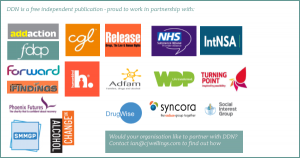 We are proud to work in partnership with many of the leading charities and treatment providers in the sector.