The sixth Support. Don't Punish global day of action is taking place on 26 June. Last year saw events in more than 200 cities across 93 countries, as people came to together to call for drug policies that are 'anchored in public health and human rights'. 'We are on course to break this record,' say the organisers of this year's activities.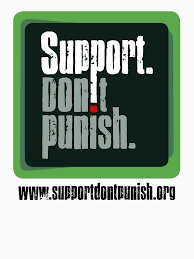 As always, the events are timed to coincide with the UN's International Day Against Drug Abuse and Illicit Trafficking, which is used by some governments to mark their contributions to the 'war on drugs' and can include beatings or even executions of drug offenders. The aim is that participants in the day of action can 'reclaim the message', says Support. Don't Punish.
The campaign's key aim is that future drug policy should focus on health and harm reduction. It wants to see an end to both the criminalisation of people who use drugs and the use of harsh or disproportionate punishments for people involved in the drugs trade at lower levels, particularly 'those involved for reasons of subsistence or coercion'. Finally, the death penalty should never be imposed for drug offences, it states.
Find out more at supportdontpunish.org