A powerful new national naloxone and overdose awareness campaign is using the faces of people with lived experience to get its message across.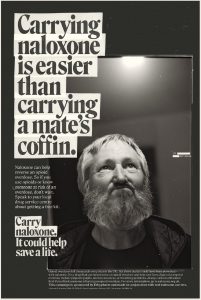 'For me it's about saving a life,' says harm reduction activist Lee Collingham, one of the faces of the landmark, country-wide naloxone awareness campaign launched last month (see news, page 5). 'Some areas still haven't got access to naloxone, and until we have a national programme we need to get the basic messages across.'
What makes the campaign unique is that everyone featured in its posters carries naloxone themselves – having been personally affected by overdose – and has undergone the simple training needed to use it effectively. 'I was approached about this campaign because of my interest in saving lives,' says Collingham. 'I come from a drug-using background and I know that simple things like giving chest compressions and calling an ambulance immediately are so important.'
His input extended well beyond simply posing for a picture, he stresses – healthcare communications group Havas Lynx discussed his experiences with him in detail and took 'plenty of shots', before he chose the one he was happy with from a smaller selection. 'They mocked it all up with the message and explained how it would look in different spaces,' he says. 'I look like a normal guy on the poster, rather than a homeless person – the whole point of it for me is about getting people on board and making it more personable. You say "save the life of a heroin addict" and most people will walk by. There's always been a hierarchy, and heroin is at rock bottom.'
The campaign also reinforces the importance of understanding overdose risks, and the fact that it's been co-produced with people who may have been at risk of overdose themselves is key, the organisers state. 'I'd heard of naloxone but I didn't know what it was,' says Andy (pictured left, with bulldog), who was also part of With You's peer-to-peer naloxone programme in Redcar and Cleveland. 'We were educated on signs of overdose, what to say, how it worked. Even if I only give out one pack I could have saved one life down the line – that makes me buzz. It gives me confidence.'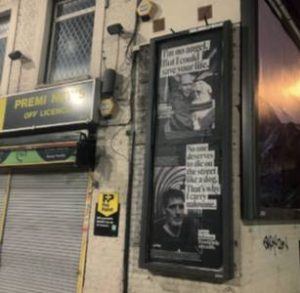 The idea behind a public-facing campaign was to deliver something 'impactful, emotive and engaging', says Stephen Malloy, strategy and public affairs lead at Ethypharm, who provided funding. 'Accidental opioid-related overdose deaths are recognised as a public health matter and they are largely avoidable and preventable. That's what the campaign is about – motivating people to find out more about overdose prevention and intervention with naloxone.'
The initiative has been welcomed by Release, whose executive director Niamh Eastwood states that widescale availability of naloxone and public education on how to use it should be at the 'cornerstone of any response' to the UK's 'shameful' record on protecting the lives of people who use drugs. Previous research by the organisation had found that while all but three of the 152 local authorities who responded to an FoI request on naloxone provision now supplied it, the amount actually being given out remained 'drastically insufficient'. In 2017-18, just 16 take-home kits were provided for every 100 people using opiates, with many areas failing to provide kits to the people most likely to need them (DDN, March 2019, page 4).
The hope is that with more money finally coming into the system, some of it specifically earmarked for naloxone provision (DDN, February, page 4), access can be improved. 'Drug service staff can provide naloxone to anyone without a prescription, and the availability of nasal naloxone now makes it easier for more people to use naloxone,' PHE's alcohol and drug treatment and recovery lead Pete Burkinshaw tells DDN. 'It's vital that local areas have good naloxone supplies in place and government recently provided additional drug funding to local authorities, some of which will be used to increase the provision of naloxone. We know that getting more naloxone into the community will help save lives by preventing unnecessary opiate overdose deaths. This campaign will help to raise awareness of the life-saving potential of naloxone through powerful real-life stories.'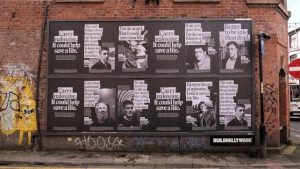 The aim now is to allow the campaign to continue to develop and hopefully be rolled out again, says Malloy. 'It may be that it inspires government public health agencies to see the importance of public-facing communication around accidental overdose, much in the same way as it does other public health matters.'
'It's about putting your passion behind a campaign that's giving people the opportunity to save and improve lives,' says Collingham. 'But the journey isn't finished. Beyond the "save a life" message is the ambition for a nationally funded naloxone programme. It should be as second nature as giving out methadone.'
See the full range of posters at naloxone.org.uk
This article has been produced with support from Ethypharm, which has not influenced the content in any way.
———
Get it out there
The recent SMMGP conference heard how both the police and the ambulance service were helping to improve access to life-saving naloxone.
'The unfortunate and startling reality is that the drug-related death rate in Scotland is three and a half times that of our neighbours in England and Wales, and the worst of any European country,' Julie McCartney, clinical effectiveness lead for drug harm reduction in the Scottish Ambulance Service, told the conference.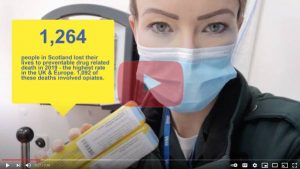 More than 90 per cent of deaths involved someone having multiple substances in their system, she said. 'Poly-drug use, unfortunately, is certainly the norm in Scotland, and more often than not it's a toxic mix – a combination of central nervous system-suppressant drugs that contribute to the fatality.' The use of naloxone to 'remove opiates from the poly-drug use equation' was enough to keep someone alive until the emergency services arrived, she said.
Each year the Scottish Ambulance Service received around 20,000 calls related to overdose and drug poisoning, and in 2019 responded to 5,000 calls where naloxone was administered by the ambulance crew. 'Our naloxone administration has almost doubled since 2015 – following the trend of drug-related deaths, unfortunately,' she said.
The Scottish Ambulance Service had a seat on the Scottish Government's Drug Deaths Taskforce, and an ability to provide naloxone kits to people and communities that could be hard to reach by other services. It had also run a successful pilot project in Glasgow where paramedics distributed take-home kits to people at risk – and provided training in responding to overdose – which had now been re-launched on a national level.
The national training programme had a variety of options to allow the service's 3,100-strong crew to complete their training in the most convenient way, including face-to-face and digital sessions, with Ethypharm providing extensive training materials. 'The partnership approach and robust communication pathways that we're putting in place are absolutely essential in our national fight to reduce drug-related deaths,' she said. 'We'll continue to work alongside health boards and alcohol and drug partnerships across the country to make sure we're able to share really relevant and meaningful data to support the allocation of resources where they're needed most.'
As well as a take-home programme, Durham Constabulary had been using naloxone in its custody suites and officers were also carrying kits themselves, said temporary chief inspector Jason Meecham. 'Problematic drug use is a significant issue in our area – according to ONS the North East has had the highest rate of drug misuse of any English region for the past seven years.'
There had been a spate of opiate overdoses in the force's custody suites in 2018-19, he said. 'In conjunction with the county council's public health team we looked at bringing naloxone into the suites, as that's what the ambulance crews were using.' Working in partnership with the county council, local drug services and Ethypharm, all custody staff were trained to safely administer naloxone, including after-care.
More than 200 police officers and civilian staff had now been trained, he said, with naloxone 'used across all our sites really successfully'. After the pandemic led to concerns around increased numbers of methadone prescriptions potentially leading to more overdoses, the decision was made to provide personal issue naloxone kits to officers in a position to respond quickly. 'We now have a wide spread of police officers around County Durham and Darlington who carry naloxone, and it's been used on quite a few occasions, either in police stations, out on the street, or where we've responded to reports of overdoses before the ambulance crew. It's important to say we're not replacing the ambulance crews here – it's just if we happen to be there first.'
A third strand of the work was take-home naloxone, he said. 'We'd identified quite a lot of people we see in custody who quite clearly don't have frequent contact with their GP or drug treatment services, but who do have problematic drug issues.' The programme had been rolled out following extensive legal discussions, he explained. 'I believe we're the first force in the country where trained and authorised police officers are giving it away – there are others where custody staff are doing it – and it really is a partnership approach with the county council's public health team. Between us we agreed on the identification criteria for possible recipients, and the training and guidance requirements.'
While people could view a training video and receive appropriate referral material for drug treatment services there were 'absolutely no strings attached', he stressed. 'If they want a kit and they're eligible – and it's quite wide eligibility – they will get given a kit, and there'll be no further contact from us or treatment services. It's all about trying to get it into the hands of people who need it the most.'