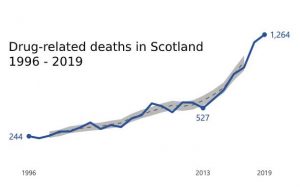 Scotland recorded 1,264 drug-related deaths in 2019, according to the latest figures from National Records of Scotland.
The figure represents a 6 per cent increase on 2018's figure of 1,187 (DDN, September 2019, page 4) and is the highest number since records began in 1996.
Almost 70 per cent of the deaths were among males, and more than two thirds were in the 35-54 age range. Scotland's death rate remains the highest in the EU and is around three and a half times higher than the rate for the UK as a whole. Three quarters of the total deaths occurred in just five health board areas – Greater Glasgow and Clyde, Ayrshire and Arran, Lanarkshire, Lothian and Tayside. Almost 95 per cent of deaths were among people who'd taken more than one substance, with heroin and morphine implicated in more than half of the total, a higher rate than any previous year. Street benzodiazepines were implicated in 64 per cent of the deaths, gabapentin and/or pregabalin in 35 per cent and cocaine in 29 per cent, again all more than in any previous year.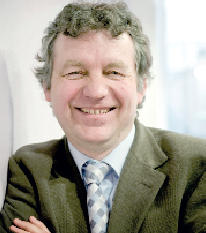 The statistics were a 'grievous reminder of the human cost' of Scotland's ongoing public health crisis, said Scottish Drugs Forum CEO David Liddell. 'Ending this emergency must be the immediate priority for all of us and will require a concerted effort from all relevant agencies as well as political leadership and public support.  None of us should regard these preventable deaths as acceptable or as anything other than a national tragedy and disgrace.
People needed access to high quality treatment and to be treated with dignity and respect, he stated, and called for an increased range of services including consumption rooms, heroin-assisted treatment and assertive outreach. 'We need to end the alienation, marginalisation and stigmatisation of people with a drug problem – the root cause of this issue, which reflects badly on a culture and mindset that we have allowed to develop unchallenged over many years.'
'Scotland considers itself a proud, progressive and socially conscious country and I consider that to be true, but these figures are at odds with our identity,' added Andrew Horne, director of We Are With You in Scotland. It was clear from the number of deaths involving methadone that not enough people were on a sufficient dose to stop them using heroin on top, he said, while local authorities remained blocked from piloting drug consumption rooms in the areas with the worst death rates, despite widespread local support. 'Finally, we need to recognise that problematic drug use is often a reaction to people's surroundings,' he stated. 'Issues such as rising homelessness, poor mental health and a lack of economic opportunities in some areas all lead to people using drugs. It's therefore no surprise that drug-related deaths are highest in Scotland's most deprived areas, with the impact of the COVID-19 crisis likely to exacerbate many of these issues unless decisive action is taken.'
Drug-related Deaths in Scotland in 2019 at www.nrscotland.gov.uk