Fentanyl and its analogues present a 'significant ongoing risk' to public health in the UK, according to an ACMD report, with more needing to be done to mitigate it.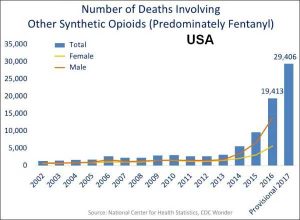 While rates of registered deaths involving fentanyls have increased over the last ten years the number is still 'likely to be under-represented', says ACMD, as 'sufficiently detailed forensic analyses are not always carried out'. England and Wales saw 74 fentanyl deaths registered in 2017 (DDN, September 2019, page 4).
Among the recommendations in Misuse of fentanyl and fentanyl analogues are systematic screening of all drug poisoning death toxicology samples to include analysis for fentanyl, and the commissioning of research to look at diversion and non-medical use of strong opioids to identify 'trends, drug products involved and populations at risk'.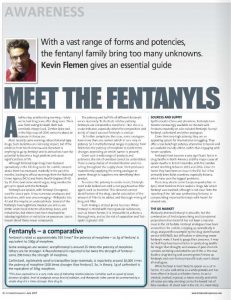 The government should also carry out a full review of international drug strategy approaches to fentanyl markets, particularly 'the US experience', and improve training for health professionals, it adds. A comprehensive early warning system with access to 'up-to-date consolidated UK-wide drug misuse data sets' should also be set up, it states, and there should be improved monitoring of fentanyl in drug seizures, counterfeit medicines and non-fatal hospital admissions.
'Infiltration of fentanyls into the heroin supply chain in the United States and Canada has been responsible for substantial increases in drug-related deaths,' says a letter to the home secretary, Priti Patel, from ACMD chair Owen Bowden-Jones and ACMD NPS committee chair Simon Thomas. 'The risk to public health from fentanyls may be lower in the UK than in North America because there is a smaller population of people who have become habituated to strong opioids. There is, however, limited information available about diversion rates and misuse of pharmaceutical fentanyls in the UK.'
Report at www.gov.uk