A dog's life
James Dickinson shares the story of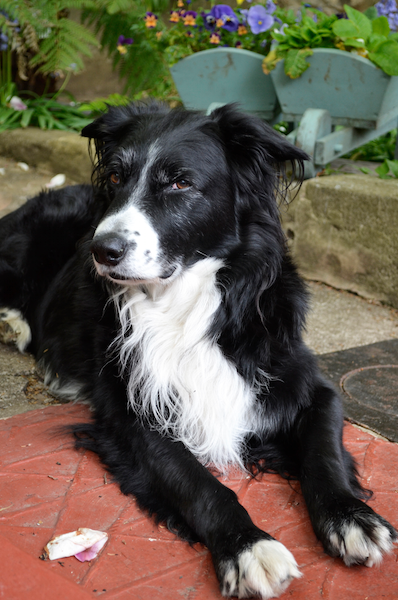 Bert, the unofficial head of treatment at Chandos House
Born to two workaholic and exercise-addicted parents, Bert was abandoned before birth by his father, with a mother chronically co-dependent and preoccupied with dad. After his birth, mum immediately returned to work.
Bert, one of eight siblings, was left to fend for himself in a boundary-less and lawless stable in Shepton Mallet. Mum only returned to the stable once a day for an hour to feed.
When he was about eight weeks old, all his brothers and sisters were adopted, due to their perfectly formed four white socks and white tipped tails.
Bert, having only three and a half white socks and half a dozen white hairs at the tip of his tail, was left alone in the stable for a further three weeks, until I visited the farm.
He was so desperate for attention he would have gone home with me even if I was a three-headed monster – so many children in similar circumstances have felt utterly unlovable and that everything is their fault. Any attention was better than none.
Bert inherited the job of deputy manager at Chandos House, where he was asked to do something other than what he truly was – a sheepdog.
In day one of his new role, at the tender age of 14 weeks, in the middle of a family tree 'constellation sculpt', a young man fell to his knees sobbing about his deceased parents. Bert leapt from the sofa whimpering and snuggled up to the young man lying on the floor, licking the tears from his face.
From that day onwards, Bert's continuing professional development was born out of the perfect life experience – abandonment, rejection and betrayal, and an advanced sense of empathy to do the job.
Ten years old this August, he now commands respect as 'leader of the pack'. He gives the men we treat here at Chandos an opportunity to take risks and practice both giving and receiving unconditional love, respect and safety. On many occasions, it has been reported and witnessed that this has acted as a positive template of a relationship that can be applied to other relationships and to life outside Chandos.
James Dickinson is head of treatment at Chandos House, www.chandoshouse.org