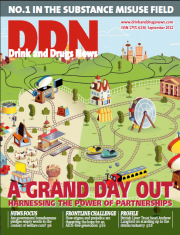 A grand day out
How did Glasgow's drug and alcohol services join together to strengthen their pull on the community? Read our cover story and be inspired. GRANDweek has set in motion some highly effective partnership working.
This issue we looked at a bunch of crucial issues. What is the government's new report promising to improve for homeless people with a dual diagnosis? Our News Focus investigates. Why are stigma and prejudice standing in the way of progress on AIDS? We hear from Dr Chris Ford at the recent international conference in Washington. And what's the latest version of the debate on abstinence v maintenance? Read this month's Soapbox, Post-its column, and a thought-provoking piece from Bill Nelles who set up The Alliance back in 1998 and now offers a challenging perspective from his home in Canada.          Claire Brown, Editor
Virtual Magazine Version | PDF Version
---
Magazine Features
NEWS FOCUS
A new government report pledges to stop the slide into homelessness, particularly for those with drug and alcohol issues. But are these empty words in the context of welfare cuts?
GRAND IDEAS
By using partnerships to create an imaginative week of activities, Glasgow is successfully involving the community in drug and alcohol awareness, as Stephen Birrell explains.
VIEW FROM AFAR
Galvanising the service user movement in the UK before returning to Canada's inferior drug and alcohol treatment system has given Bill Nelles a unique perspective on treatment policy.
ALL THE WORLD'S A STAGE
The arts can play a vital and powerful role in recovery, says Katrina Lahmann.
FRONTLINE CHALLENGE
Stigma and prejudice still stand firmly in the way of achieving an AIDS-free generation, says Dr Chris Ford, who shares her observations on the 19th International AIDS Conference.
VITAL FUNCTION
As liver disease rates continue to rise, David Gilliver talks to British Liver Trust chief executive Andrew Langford about awareness and taking on the drinks industry.
A SIMPLE REVOLUTION
Recovery coaching is quietly transforming the world of recovery, says Anthony Eldridge Rogers.