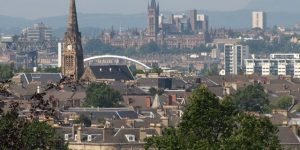 A report to be presented to the Glasgow City Integration Joint Board later this month will identify potential sites for what could be the UK's first drug consumption room. The board officially approved the development of a business case for the facility late last year (DDN, November 2016, page 4).
Suitable available sites in the south east of Glasgow's city centre are being 'pursued in the event that permission is granted', says the NHS Greater Glasgow and Clyde health board, with a community engagement process to begin once a site has been chosen. The proposed facility would also offer heroin-assisted treatment alongside health and social care advice, peer support and treatment referrals.
The draft business case drawn up last year argued that the combined consumption room and heroin-assisted treatment could help reduce drug-related deaths and blood-borne virus transmission, as well as public injecting and drug-related offending. It could also improve service engagement for people with complex needs and reduce the burden on other health services.
The new report estimates the combined cost of the consumption room and heroin-assisted treatment at just over £2.3m per year, to be part-funded by redirecting existing resources of just under £900,000. The remaining £1.4m would be met by 'contingency funding for a period of no more than three years', says NHS Greater Glasgow and Clyde.
Last year's draft business case estimated the lifetime costs to the health service of Glasgow's newly diagnosed HIV cases among drug users since 2015 at almost £30m, while a 2009 Scottish Government research paper estimated the 'total economic and social costs attributable to illegal drug users' in Scotland at around £3.5bn. Heroin-assisted treatment could potentially save almost £950,000 per year for every 30 people who access it, says the health board, with the treatment available only to adult heroin-dependent patients 'with previous unsuccessful treatment episodes'.
'The need for a safer consumption facility is about improving the health of those involved in public injecting,' said chief officer for strategy, planning and commissioning at Glasgow City community health partnership, Susanne Millar. 'Our aim is to provide a route to recovery for a group of people often disengaged from support services, and improving the general amenity of Glasgow city centre.'
Public injecting placed a 'considerable' financial burden on the health, social care and criminal justice systems, she added. 'Existing research suggests the average spend on health, addictions, housing and criminal justice service for people in Glasgow with complex needs ranges from £1,120 and £3,069 per individual per month. These proposals are backed by evidence indicating safer drug consumption facilities not only improve health outcomes for people who inject drugs, but are also highly cost effective and contribute to savings for health and social care services.'