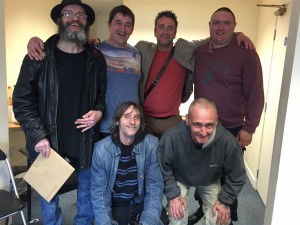 Cornwall service users celebrate life skills
Service users in Cornwall have successfully completed a new accredited course, 'life skills in action'.
The course, designed by Cornwall Life Skills, offers skills coaching in education, training, voluntary work and employment – such as developing self-confidence and improving interpersonal skills. Course completion leads to a level 1 AptEd award in progression qualification, which is nationally recognised.
A celebration event was held to award certificates to the ten graduates who completed the course, where they were able to share their progress since finishing it. Other attendees were also given the opportunity to enrol with the service.
Spectrum earns Purple Star for learning support
Spectrum, a drug and alcohol service run by CRI in Hatfield, has been awarded a 'purple star' in recognition of its communication with people with learning disabilities.
The purple star scheme aims to improve relationships between health and social care services and adults with learning disabilities by ensuring all organisations taking part undergo training and service checks to ensure that standards are met.
Spectrum staff took part in specialist training, including how to make their buildings more accessible.
Steve Smith, Spectrum county services manager, said, 'We are proud of our commitment to support everyone who seeks help to improve their health, or that of a loved one. The purple star award is the result of a proactive effort to make sure all our services are as accessible as possible.'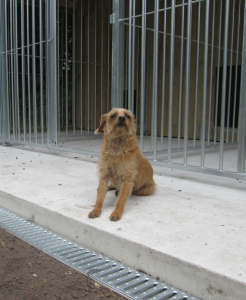 Phoenix residents can bring canine chums to rehab
A block of kennels has been opened at Phoenix Future's Wirral residential service, Upton Road, to allow service users to bring their dogs along with them to rehab.
The kennels were opened after an increasing number of people with drug and alcohol problems raised concerns that they could not access help as it would mean they would have to give up their pets.
'Many people in active addiction build strong ties with their dogs. Their dogs keep them warm and safe during periods of homelessness, give them unconditional love through the worst points in their lives and a reason to keep going when all other relationships appear irrevocably damaged,' says Karen Biggs, Phoenix Futures' chief executive.
The dogs will be cared for by their owners, trained professionals and others at the service, and the kennels will enable people to live with their dogs while receiving treatment.
Naloxone campaign launched in North Somerset
A 'Keep Calm and Carry Naloxone' campaign has been launched to help save lives in North Somerset.
Addaction staff in Weston have been offering training on how to administer the life-saving drug, as well as sending participants home with naloxone kits.
The campaign was launched in support of international overdose awareness day on 1 September. 'Lives will be saved due to this training. Taking heroin is a high-risk activity and our service works hard to show people another lifestyle,' said service team leader James Brazier.
'But, while the risk is still happening, users and their significant others should make sure they have a naloxone kit.'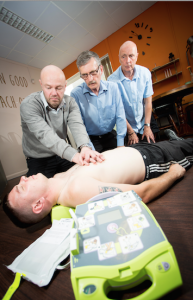 Oldham project installs life-saving defibrillator
Acorn Recovery Projects have installed a defibrillator at their Brunswick House Oldham centre that will be available to both staff and members of the public.
The 'defib' could potentially save the lives of clients, staff and casualties in the wider community, and although no formal training is required to operate it, safety manager Tom Berry delivered training to four Acorn staff at the Acorn Recovery Projects centre.
Edgy production in East London
A new production from Outside Edge theatre company uses personal testimonies and live cabaret to explore the 'splintered, chaotic and at times absurdly comic' world of people affected by addiction'. Rockston Stories can be seen at Hoxton Hall, east London, from 29 September until 17 October.
The cast have a 'dynamic creative energy, cutting humour, and an infectious desire to share the truth about addiction,' said director Susie Miller. http://edgetc.org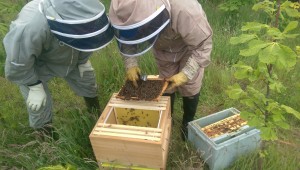 Bee-keeping promotes recovery  
A new bee-keeping project has been launched to promote skills development in Calderdale.
Calderdale in Recovery has received a grant from the Kathleen Mary Denham Fund to purchase hives, safety equipment and the first colony of bees for the project, after the local recovery community was consulted on what kind of project they would like to become involved with.
The aim of the project is to help those taking part develop husbandry skills, with a view to producing 'recovery honey' that can be sold to fund local community-led initiatives.