Drinkers consuming more than the government's low-risk guideline of 14 units a week make up a quarter of the population but provide 68 per cent of industry revenue, according to a new study. This means that if all drinkers stuck to the guidelines the industry would lose around £13bn, say researchers from the Institute of Alcohol Studies (IAS) and the University of Sheffield.
While just 4 per cent of the population drink at the higher 'harmful' levels, they account for nearly a quarter of sales, adds How dependent is the alcohol industry on heavy drinking in England?, which is published in the academic journal Addiction.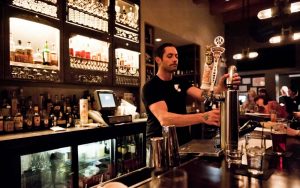 More than 80 per cent of sales in supermarkets and off-licences come from people drinking above guideline levels, it says, along with more than 60 per cent in pubs, restaurants and clubs. Almost 80 per cent of revenue for beer producers comes from people drinking above the recommended amount, which means the average cost of a pint of beer in a pub would need to increase by more than £2.50 – and a bottle of supermarket spirits by more than £12 – to maintain current revenue levels if everyone drank within the guidelines.
Policies to reduce alcohol harm such as minimum unit pricing had been resisted 'at every turn' by the industry, stated lead author Aveek Bhattacharya. 'Our analysis suggests this may be because many drinks companies realise that a significant reduction in harmful drinking would be financially ruinous. The government should recognise just how much the industry has to lose from effective alcohol policies, and be more wary of its attempts to derail meaningful action through lobbying and offers of voluntary partnership. Protecting alcohol industry profits should not be the objective of public policy.'
Study available here