This year Turning Point have taken their Alcohol Awareness Week activities online, ensuring they are still able to recognise this important occasion and raise awareness amongst the local communities they support.

Different roles across the social enterprise will be profiled in a daily Twitter Takeover spanning the week, with a snapshot into the day-to-day activities of a Peer Mentor, Family Worker, Support Worker and the Women's only team in the DAWS (London) service.
A virtual Alcohol Awareness Day live forum on Wednesday 18th November at 1pm, hosted on the Turning Point Facebook page. An open discussion about the link between alcohol and mental health, the physical effects of alcohol, what support is available and where to find it if you are concerned about yourself or a loved one.
Services from across the country have come together to contribute to all the activity on the Turning Point social media channels, participating in the virtual forum as well as fact sheets and infographics.
Service Specific Events:
A daily podcast published on the

Turning Point Recovery News Channel

(YouTube)

Dear Albert course (You do the MAF) everyday 2pm – 4pm via zoom

Peer Mentors will be publishing self-penned daily stories.

A special Five Ways to Wellbeing session for service users on Thursday 19

th

11am via Webe
Local awareness raising through digital channels

Myth busting, advice and facts about alcohol
Leicester, Leicestershire & Rutland
Turning Point LLR and Dear Albert along with other partners, stakeholders and members of the community have come together to produce a 'virtual' Alcohol Awareness Week. Daily broadcasts at 12pm throughout the week on

Dear Alberts 'DATV'

(YouTube)

Podcasts from Sikh Recovery Network will be made available throughout the week (via DATV and other Podcast providers)
Rochdale and Oldham Alcohol Recovery (ROAR)
Daily myth busting, advice and facts about alcohol on their channels

Peer Mentor created videos for the

Turning Point Recovery News Channel

Radio interviews with local outlets throughout the week
Online training delivered to Wakefield Council staff by their Alcohol Target Team on Wednesday 17

th

Nov. Focussing on safer drinking, impact on family, work, mental and physical wellbeing.

Sharing easy to make at home mocktail recipes

Daily myth busting, advice and facts about alcohol on their channels
Working alongside CGL to host a range of Zoom event during the week including talks about the Five Ways to Wellbeing and employment
Daily myth busting, advice and facts about alcohol on their channels
——–
DDN magazine is a free publication self-funded through advertising.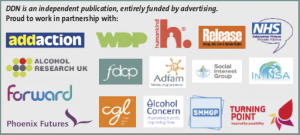 We are proud to work in partnership with many of the leading charities and treatment providers in the sector.