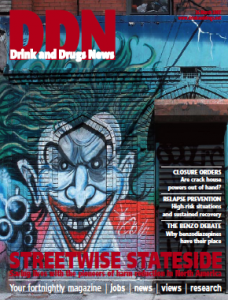 There's been an unwelcome chasm reopening between abstinence and maintenance in the last two years, Daren Garratt told the National Drug Treatment Conference last week – a statement frequently reflected in our letters pages.
It was interesting then to read Sara Moralioglu's investigation of harm reduction in North America (page 8) – a story made all the more remarkable by the scale of progress – particularly in the United States, where the climate of incarceration for drug users has made campaigning for harm reduction initiatives a dangerous game.
Back home we seem stuck on how to classify harm. Following on from the RSA Drugs Commission report earlier this month, calling for a rethink on drug strategy, an article in the latest Lancet demonstrates how an expert panel would reclassify 20 drugs according to their actual level of harm – relating to physical harm, dependence risk and wider impact on society (news, page 4). The project involved experts working in all areas of addiction, medicine, psychiatry and law and was an attempt to offer 'a systematic framework… that could be used by national and international regulatory bodies to assess the harm of current and future drugs of abuse', instead of a system that is considered by many to be arbitrary, without much scientific basis.
But the BBC has already reported Home Office Minister Vernon Coaker's reaction as: 'We have no intention of reviewing the drug classification system.' Classified by the trial system, alcohol and tobacco would be recognised as (together) accounting for about 90 per cent of all drug related deaths in the UK.
Alcohol Concern has already criticised the chancellor for ignoring the chance to increase alcohol excise duty in this week's budget. Can policy in this country ever shift to a public health approach?
We're taking a break for Easter, so our next issue is out on 23 April. See you then!
Read the magazine: PDF Version