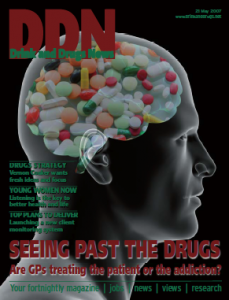 Whatever you feel about existing data collection systems – and we know that many of you feel very strongly that they have taken over your job and burrowed into client time – there is no doubt that the NTA has consulted carefully before introducing the new Treatment Outcomes Profile system (page 10). Its designers, addiction researchers Dr John Marsden and Dr Michael Farrell, have taken on board the need to combine time-saving on bureaucracy with the goal of improving careplanning.
With recent DDN letters pages in mind, it seemed worth including feedback from the system's testers – in case it helps you at the teething stage. Many of the stakeholders at the launch conference were optimistic that it would give greater efficiency alongside the much called for monitoring of progress – as well as a barometer of the effectiveness of individual services, that would strengthen and steer commissioning. The real test will be seeing how easily teams adapt, particularly keyworkers, to using it to its much-needed potential.
In a week when the charity Mind warns of unnecessary prescribing, we shine our torch into the doctor's surgery to find Tony Birt (page 6). Five years ago he was dying from lack of holistic care. These days he is a passionate advocate for better treatment, and particularly understanding for drug users within primary care.
We know there are doctors out there who care about drug users. As well as those who spoke at the RCGP conference recently (page 7), there are inspiring examples around the country, such as the Cornwall group who carried out an audit to improve their referral process (page 13).
There's plenty of inspiration in this issue: for young women through the Young Women Now movement (page 12), and for prison workers looking for an excuse to innovate, on page 14.
Read the magazine: PDF Version